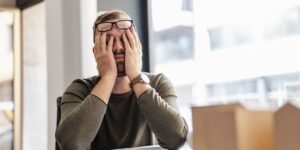 If we want to achieve our goals, it's the bad days that matter most.
I've a client, Anthony* we'll call him, who has an ambitious goal for the year. He's going to read non-fiction or personal development books for 30 minutes a day in the hope of finishing more than 35 books.  Anthony hasn't been much of a reader until now.
The first few weeks, he's disciplined and well on pace to reach his mark.
But at the end of the month, work picks up, his daughter gets sick, and there is an exciting game of test cricket on TV one particular night.
"I can skip a day," he reasons.
But the next day, work is unrelenting, he's exhausted, and he can't keep his eyes open at night, so he skips again.
Just like that, his once-regimented routine is broken, and he falls off his path.
Many of us as leaders have practical and well-intentioned goals for our teams and ourselves.  Drink 2L of water every day, hold regular 1-on-1 meetings with team members to touch base, complete a work out for an allotted period of time etc etc
But too often, we get derailed because on one particular day, we're too tired, too stressed, too distracted — and we just can't push through.
It's these days when we're not at our best, though, that best-selling author James Clear (Atomic Habits) says ultimately determine our productivity and improvement levels.
And if we want to achieve our goals, they're the ones that matter most.
"You can look at yourself in the mirror at the end of the night and be like circumstances weren't ideal, situation wasn't perfect, but I still found a way to show up and get some reps in today," Clear recently said on The Tim Ferriss Show.
The point is that we need to reconsider how we look at the days when we don't have it, when we're not at our best.
Instead of viewing them as obstacles, we might want to look at them more as opportunities to gauge how committed we really are to our cause.
True progress isn't simply about what we accomplish when we're feeling our best.
It's often about pushing through when we're not.
BD